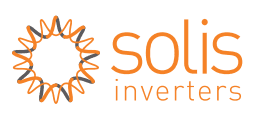 SOLIS
Inverter Specialists

Established in 2005, Ginlong (Solis) Technologies is one of the oldest and largest global string inverter specialists manufacturing products for converting DC to AC power and interacting with utility grid — helping to reduce the carbon footprint of society.
Solis' range of high-quality products have received recognition within the market and the company has been awarded several prestigious awards including:
2016: EuPD Top PV Inverter Brand Award
2017: EuPD Top PV Inverter Brand Award
2018: EuPD Top PV Inverter Brand Award
2019: EuPD Top PV Inverter Brand Award
2020: TÜV Rheinland All Quality Matters Award
SOLIS 0.7KW – 2.5KW SINGLE TRACKER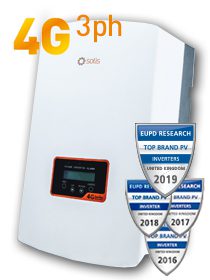 SOLIS 5KW – 60KW THREE-PHASE 4G DUAL MPPT
SOLIS 40KW – 60KW THREE-PHASE QUAD MPPT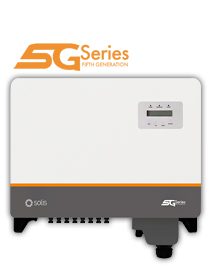 SOLIS 25KW – 110KW THREE-PHASE 5G VARIOUS MPPT
Solis' PV solutions are celebrated for their efficiency, bankability and cost-effective performance. Despite their outstanding value, Solis' products have a reputation for being reliable and adaptable for a variety of sites.
Commercial & Industrial
With SegenSolar, you can now explore Solis' unparalleled commercial inverter range for large-scale, industrial projects or those requiring three-phase power. Solis' three-phase inverters range from 10kW to 255kW, providing high-voltage, reliable energy. The commercial inverter series comprises grid-tied and hybrid solutions from both the fourth and fifth-generation inverter series.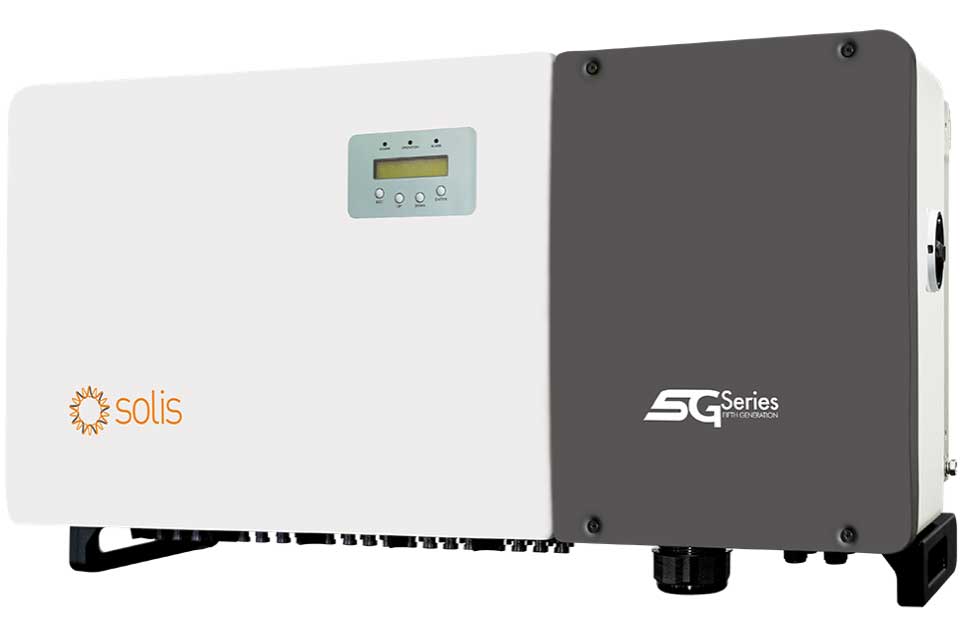 The 110kW inverter has inbuilt Type I/II surge protection — a unique feature that is ideal for the Southern African climate. This product is the ultimate commercial solution from Solis.
Exclusive services
Choosing Solis through SegenSolar has multiple advantages.
48-hour RMA process
Need to return a faulty Solis product? The SegenSolar team will test, diagnose and replace your inverter within 48 hours, allowing 24 additional hours for shipping.
Local support
SegenSolar has a six-person team of Solis experts dedicated to commercial projects. The team can assist you with project planning and cost optimisation — get in touch today.
SolisCloud
Solis' all-new monitoring platform means it is easier than ever to keep an eye on your inverters at an enhanced level of detail.
| Product code | Categories | Name |
| --- | --- | --- |
| SOL-USB-FIRM-UPG | Inverter Accessories, PV Inverter, Solis | Solis USB Firmware Upgrade Stick |
| SOL-S5-GR3P-6K-DC | Main Unit, PV Inverter, Solis | Solis 6kW S5 3 Phase Dual MPPT – DC |
| SOL-S5-GR3P-8K-DC | Main Unit, PV Inverter, Solis | Solis 8kW S5 3 Phase Dual MPPT – DC |
| SOL-S6-EH1P5K-L-PRO | Hybrid Inverter, Solis, Storage Systems | Solis S6 Pro 5kW Advanced Hybrid Inverter |
| SOL-S6-EH1P6K-L-PRO | Hybrid Inverter, Solis, Storage Systems | Solis S6 Pro 6kW Advanced Hybrid Inverter |
| SOL-S6-EH1P8K-L-PRO | Hybrid Inverter, Solis, Storage Systems | Solis S6 Pro 8kW Advanced Hybrid Inverter |
| SOL-S5-GC36K-DC | Main Unit, PV Inverter, Solis | Solis 36kW S5 3 Phase Quad MPPT – DC |
| SOL-S5-GC40K-DC | Main Unit, PV Inverter, Solis | Solis 40kW S5 3 Phase Quad MPPT – DC |
| SOL-S5-GC50K-DC | Main Unit, PV Inverter, Solis | Solis 50kW S5 3 Phase 5x MPPT – DC |
| SOL-S5-GC60K-DC | Main Unit, PV Inverter, Solis | Solis 60kW S5 3 Phase 6x MPPT – DC |
| SOL-S5-GR3P-10K-DC | Main Unit, PV Inverter, Solis | Solis 10kW S5 3 Phase Dual MPPT – DC |
| SOL-S5-GR3P-12K-DC | Main Unit, PV Inverter, Solis | Solis 12kW S5 3 Phase Dual MPPT – DC |
| SOL-S5-GR3P-15K-DC | Main Unit, PV Inverter, Solis | Solis 15kW S5 3 Phase Dual MPPT – DC |
| SOL-S5-GR3P-20K-DC | Main Unit, PV Inverter, Solis | Solis 20kW S5 3 Phase Dual MPPT – DC |
| SOL-S5-GC25K-DC | Main Unit, PV Inverter, Solis | Solis 25kW S5 3 Phase Triple MPPT – DC |
| SOL-S5-GC30K-DC | Main Unit, PV Inverter, Solis | Solis 30kW S5 3 Phase Triple MPPT – DC |
| SOL-EPM3-5G-PLUS | Display, Power Management, Solis | Solis Export Power Manager PLUS 5 Gen – 3ph for Up to 80 inverters |
| SOL-METER-1PH-CT1 | Display, Power Management, Solis | Solis 1phase Meter ACR10R 16DTE with 120A CT |
| SOL-NE-GIK-100S-D3 | Generator Integration, Solis, Three Phase | DNP3 Generator Integration kit for Solis inverters |
| SOL-METER-3PH-CT3 | Display, Power Management, Solis | Solis 3phase Meter DTSD1352 with 3x150A:5A CTs |
| SOL-EPM1-5G | Display, Power Management, Solis | Solis Export Power Manager 5 Gen – 1ph |
| SOL-NE-GIK-100S | Generator Integration, Solis, Three Phase | Standard Generator Integration kit for Solis inverters |
| SOL-S2-WL-ST | Display, Solis, Web Interface | Solis Data Logging Stick – Wi-Fi & LAN 4-Pin |
| SOL-S5-EH1P6K-L | Hybrid Inverter, Solis, Storage Systems | Solis Energy Storage 5kW Hybrid S5 Inverter with DC switch |
| SOL-RHI-3P10K-HVES-5G-DC | Hybrid Inverter, Solis, Storage Systems | Solis 10kW 3-Phase High Voltage Hybrid 5G Inverter |
| SOL-DLB-GSM | Display, Solis, Web Interface | Solis Data Logging Box – GPRS (GSM) |
| SOL-60.0-3PH-DC | Main Unit, PV Inverter, Solis | Solis 60kW 3 Phase Quad MPPT with DC |
| SOL-6.0-S6-DT-DC | Main Unit, PV Inverter, Solis | Solis 6kW S6 Dual MPPT – Single Phase with DC |
| SOL-DLS-W3 | Display, Solis, Web Interface | Solis Data Logging Stick – WiFi Gen 3 – S3-WIFI-ST |
| SOL-50.0-3PH-DC | Main Unit, PV Inverter, Solis | Solis 50kW 3 Phase Quad MPPT with DC |
| SOL-CT-100A-10M | Current Sensor Clamp, Display, Solis | Current Transformer for Solis 4G, 5G and 6S range 100A 10m |
| SOL-DLB-W | Display, Solis, Web Interface | Solis Data Logging Box – WiFi |
| SOL-8.0-3PH-4G-DC | Main Unit, PV Inverter, Solis | Solis 8kW 4G 3 Phase Dual MPPT – DC |
| SOL-6.0-3PH-5G-DC | Main Unit, PV Inverter, Solis | Solis 6kW 4G 3 Phase Dual MPPT – DC |
| SOL-DLS-LAN-S2 | Display, Solis, Web Interface | DO NOT USE |
| SOL-30.0-3PH-5G-DC | Main Unit, PV Inverter, Solis | Solis 30kW 5G 3 Phase Triple MPPT – DC |
| SOL-36.0-3PH-5G-DC | Main Unit, PV Inverter, Solis | Solis 36kW 5G 3 Phase Quad MPPT – DC |
| SOL-40.0-3PH-5G-DC | Main Unit, PV Inverter, Solis | Solis 40kW 5G 3 Phase Quad MPPT – DC |
| SOL-4.6-5G-DT-PLUS | Main Unit, PV Inverter, Solis | Solis 4.6kW 5G Dual MPPT – Single Phase |
| SOL-3.6-S6-DT-DC | Main Unit, PV Inverter, Solis | Solis 3.6kW S6 Dual MPPT – Single Phase with DC |
| SOL-4.6-S6-DT-DC | Main Unit, PV Inverter, Solis | S6 4.6kW 2MPPT 1PH Inverter – with DC |
| SOL-40.0-3PH-DC | Main Unit, PV Inverter, Solis | Solis 40kW 3 Phase Quad MPPT with DC |
| SOL-4.0-4G-DT | Main Unit, PV Inverter, Solis | Solis 4.0kW 4G Dual MPPT – Single Phase |
| SOL-4.6-5G-DT-DC | Main Unit, PV Inverter, Solis | Solis 4.6kW 5G Dual MPPT – Single Phase with DC |
| SOL-5.0-3PH-4G-DC | Main Unit, PV Inverter, Solis | Solis 5kW 4G 3 Phase Dual MPPT – DC |
| SOL-3.6-5G-DT | Main Unit, PV Inverter, Solis | Solis 3.6kW 5G Dual MPPT – Single Phase |
| SOL-3.0-MINI-S6-DC | Main Unit, PV Inverter, Solis | S6 Mini 3kW 1MPPT 1PH Inverter – with DC isolator |
| SOL-255-3PH-5G-EHV-DC | Main Unit, PV Inverter, Solis | Solis 255kW 5G 3 Phase 14 MPPT High Voltage with DC |
| SOL-3.0-4G-DT-DC | Main Unit, PV Inverter, Solis | Solis 3.0kW 4G Dual MPPT – Single Phase with DC |
| SOL-3.6-4G-DT-DC | Main Unit, PV Inverter, Solis | Solis 3.6kW 4G Dual MPPT – Single Phase with DC |