JA Solar Holdings Co. Ltd. is a leading global manufacturer of high performance photovoltaic products based in Shanghai, China. The company has been the world's leading cell producer since 2010, and has firmly established itself as a tier one module supplier.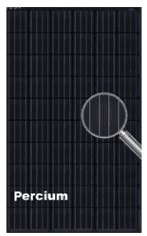 JA Solar is committed to providing modules with unparalleled conversion efficiency, yield efficiency, and reliability to enable customers to maximize the returns of their PV projects.
JA Solar modules provide reliable quality and use PID- free components and all modules come with a 10 year product warranty on materials and workmanship, and a 25 years linear performance warranty. JA Solar offers its customers high quality products with higher than average efficiencies at a very good price to performance ratio.
JA Solar places great focus on the optimization of module manufacturing processes to continuously improve their efficiency and reliability. The power rating of JA Solar's PV-modules in mass production is on average about 5 to 10 watts above industry average
SegenSolar stocks the JA Solar 60 and 72 Cell Polycrystalline modules and the sleek Mono Percium All Black available for immediate shipment, catering to all commercial and domestic applications.
For more information, please visit the JA Solar website here or refer to the documents tab on the specific product page on the SegenSolar portal.

| Product code | Categories | Name |
| --- | --- | --- |
| JAM72S-30-540-MR-QC4 | JA Solar, Monocrystalline, PV Panel | JA Solar 540W Mono PERC Half-Cell MBB QC4 |
| JAM72S-30-545-MR-F30-EVO2 | JA Solar, Monocrystalline, PV Panel | JA Solar 545W Mono PERC Half-Cell MBB MC4 with 30mm frame thickness |
| JAM72S-30-550-MR-F30-EVO2 | JA Solar, Monocrystalline, PV Panel | JA Solar 550W Mono PERC Half-Cell MBB MC4 with 30mm frame thickness |
| JAM72S-30-550-MR-F30-QC4 | JA Solar, Monocrystalline, PV Panel | JA Solar 550W Mono PERC Half-Cell MBB QC4 with 30mm frame thickness |
| JAM72S-30-555-GR-F30-EVO2 | JA Solar, Monocrystalline, PV Panel | JA Solar 555W Mono PERC Half-Cell GR MC4 with 30mm frame thickness |
| JAM72S-20-460-MR-MC4 | JA Solar, Monocrystalline, PV Panel | JA Solar 460W Mono MBB Percium Half-Cell Silver Frame MC4 |
| JAM72S-20-460-MR-SM | JA Solar, Monocrystalline, PV Panel | JA Solar 460W Mono MBB Percium Half-Cell Silver Frame Short Frame QC4 |
| JAM72S-20S-455-MR-MC4 | JA Solar, Monocrystalline, PV Panel | JA Solar 455W Mono MBB Percium Half-Cell Silver Frame MC4 – Short Cable |
| JAM72S-20-450-MR-MC4-SM | JA Solar, Monocrystalline, PV Panel | JA Solar 450W Mono MBB Percium Half-Cell Silver Frame Short Frame MC4 |
| JAM72S-20-460-MR-MC4-SM | JA Solar, Monocrystalline, PV Panel | JA Solar 460W Mono MBB Percium Half-Cell Silver Frame Short Frame MC4 |
| JAM72S-20-465-MR-MC4-SM | JA Solar, Monocrystalline, PV Panel | JA Solar 465W Mono MBB Percium Half-Cell Silver Frame Short Frame MC4 |
| JAM72S-20-450-MR-MC4 | JA Solar, Monocrystalline, PV Panel | JA Solar 450W Mono MBB Percium Half-Cell Silver Frame MC4 |
| JAM72S-30-535-MR | JA Solar, Monocrystalline, PV Panel | JA Solar 535W Mono PERC Half-Cell MBB |
| JAM72S-20-455-MR-MC4 | JA Solar, Monocrystalline, PV Panel | JA Solar 455W Mono MBB Percium Half-Cell Silver Frame MC4 |
| JAM72S-10-415-MR-F35-MC4 | JA Solar, Monocrystalline, PV Panel | JA Solar 415W Mono MBB Percium Half-Cell Silver 35mm Frame MC4 |
| JAM72D-30-535-MB | JA Solar, Monocrystalline, PV Panel | JA Solar 535W Bifacial Mono PERC Half-Cell MBB |
| JAM72S-10-410-MR-MC4 | JA Solar, Monocrystalline, PV Panel | JA Solar 410W Mono MBB Percium Half-Cell Silver Frame MC4 |
| JAM66S-30-505-MR-ITS-MC4 | JA Solar, Monocrystalline, PV Panel | JA Solar 505W Mono PERC Half-Cell MBB Silver Frame ITS MC4 Connectors |
| JAM72S-09-390-PR-SF | JA Solar, Monocrystalline, PV Panel | JA Solar 390W Mono Percium LW 5BB Silver Frame with QC4 |
| JAM72S-09-395-PR-SF-MC4 | JA Solar, Monocrystalline, PV Panel | JA Solar 395W Mono Percium LW 5BB Silver Frame |
| JAM72D-30-545-MB-SF-QC4 | Bifacial, JA Solar, PV Panel | JA Solar 545W Bifacial Mono PERC Half-Cell MBB, QC4 Connectors |
| JAM72S-09-390-PR-SF-MC4 | JA Solar, Monocrystalline, PV Panel | JA Solar 390W Mono Percium LW 5BB Silver Frame |
| JAM72S-10-410-MR-F35-MC4 | JA Solar, Monocrystalline, PV Panel | JA Solar 410W Mono MBB Percium Half-Cell Silver 35mm Frame MC4 |
| JAM72S-10-410-MR-F35 | JA Solar, Monocrystalline, PV Panel | JA Solar 410W Mono MBB Percium Half-Cell Silver 35mm Frame QC4 |
| JAM66S-30-500-MR-MC4 | JA Solar, Monocrystalline, PV Panel | JA Solar 500W Mono PERC Half-Cell MBB Silver Frame MC4 Connectors |
| JAM66S-30-500-MR-ITS-MC4 | JA Solar, Monocrystalline, PV Panel | JA Solar 500W Mono PERC Half-Cell MBB Silver Frame ITS MC4 Connectors |
| JAM60S-21-365-MR-AB-MC4 | JA Solar, Monocrystalline, PV Panel | JA Solar 365W Mono MBB Percium Half-Cell All Black MC4 |
| JAM60S-21-370-MR-AB-MC4 | JA Solar, Monocrystalline, PV Panel | JA Solar 370W Mono MBB Percium Half-Cell All Black MC4 |
| JAM60S-21-360-MR-AB-MC4 | JA Solar, Monocrystalline, PV Panel | JA Solar 360W Mono MBB Percium Half-Cell All Black MC4 |
| JAM66S-30-490-MR-MBB | JA Solar, Monocrystalline, PV Panel | 490W Mono PERC Half-Cell MBB |
| JAM60S-21-365-MR-AB-SM | JA Solar, Monocrystalline, PV Panel | JA Solar 365W Mono MBB Percium Half-Cell All Black Short Frame QC4 |
| JAM66S-30-495-MR-MC4 | JA Solar, Monocrystalline, PV Panel | JA Solar 495W Mono PERC Half-Cell MBB Silver Frame MC4 Connectors |
| JAM66S-30-495-MR-BF | JA Solar, Monocrystalline, PV Panel | 495W Mono PERC Half-Cell MBB Black Frame |
| JAM66S-30-495-MR | JA Solar, Monocrystalline, PV Panel | JA Solar 495W Mono PERC Half-Cell MBB Silver Frame |
| JAM60S-21-365-MR-AB | JA Solar, Monocrystalline, PV Panel | JA Solar 365W Mono MBB Percium Half-Cell All Black |
| JAM60S-20-380-MR-MC4-SM | JA Solar, Monocrystalline, PV Panel | JA Solar 380W Mono MBB Percium Half-Cell Black Short Frame MC4 |
| JAM60S-20-385-MR-SM | JA Solar, Monocrystalline, PV Panel | JA Solar 385W Mono MBB Percium Half-Cell Black Short Frame QC4 |
| JAM60S-20-380-MR-SM | JA Solar, Monocrystalline, PV Panel | JA Solar 380W Mono MBB Percium Half-Cell Black Short Frame QC4 |
| JAM60S-20S-380-MR-SF-SM | JA Solar, Monocrystalline, PV Panel | JA Solar 380W Mono MBB Percium Half-Cell Silver Short Frame QC4 – Short Cable |
| JAM60S-20-380-MR-SF-MC4-SM | JA Solar, Monocrystalline, PV Panel | JA Solar 380W Mono MBB Percium Half-Cell Silver Short Frame MC4 |
| JAM60S-20-385-MR-D-MC4 | JA Solar, Monocrystalline, PV Panel | do not use |
| JAM60S-20-385-MR-L-MC4 | JA Solar, Monocrystalline, PV Panel | 385W Mono MBB Percium Half-Cell Black Frame Light Cell MC4 |
| JAM60S-20-390-MR-MC4-SM | JA Solar, Monocrystalline, PV Panel | JA Solar 390W Mono MBB Percium Half-Cell Black Short Frame MC4 |
| JAM60S-20-390-MR-MC4 | JA Solar, Monocrystalline, PV Panel | JA Solar 390W Mono MBB Percium Half-Cell Black Frame MC4 |
| JAM60S-20-380-MR-MC4 | JA Solar, Monocrystalline, PV Panel | JA Solar 380W Mono MBB Percium Half-Cell Black Frame MC4 |
| JAM54S-30-415-MR-BF | JA Solar, Monocrystalline, PV Panel | JA Solar 415W Mono PERC Half-Cell MBB Black Frame |
| JAM60S-09-320-PR-SF | JA Solar, Monocrystalline, PV Panel | JA Solar 320W Mono Percium LW Silver Frame |
| JAM54S-31-405-MR-AB | JA Solar, Monocrystalline, PV Panel | JA Solar 405W Mono MBB PERC Half-Cell All Black MC4 |
| JAM60S-10-345-MR-BF-MC4 | JA Solar, Monocrystalline, PV Panel | JA Solar 345W Mono MBB Percium Half-Cell Black Frame MC4 |
| JAM60S-20-375-MR-MC4-SM | JA Solar, Monocrystalline, PV Panel | JA Solar 375W Mono MBB Percium Half-Cell Black Short Frame MC4 |