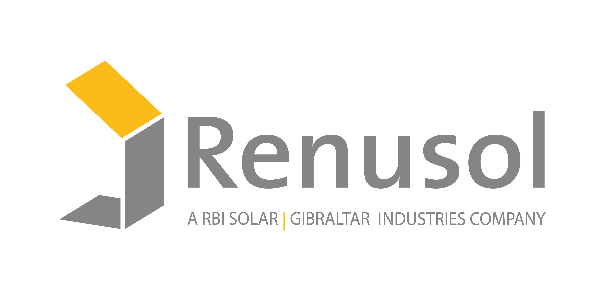 Renusol is one of the largest companies offering solar mounting solutions. Based in Germany, Renusol offer unique solar panel mounting solutions to suit every application.
Renusol is part of the Gibraltar industry group and is a subsidiary of RBI Solar, the leading EPC provider for ground mounting in the US. Since 1997 Renusol has been developing and producing innovative and cost-efficient solar racking solutions for the photovoltaic industry.
Their range consists of a solution to fit every requirement and Roof type.
The MetaSole+ range is the carefree solution for solar mounting on IBR and corrugated metal sheet of aluminum and steel.
The FS10/FS18 system is perfect for any flat roof install. In either a North facing configuration or East/West, with both 10 degree and 18 degree options on offer, making this system extremely versatile for every requirement.
The Variosole+ system suits every and any pitched tiled roof application. The different components can be combined as needed and fastened to the roof substructure.
The ConSole+ system which is a Ballasted racking system for flat roofs without roof penetration suitable for north-oriented solar installations on regular flat roofs, small flat roofs, such as garages or bungalows, and on redeveloped surfaces on the ground.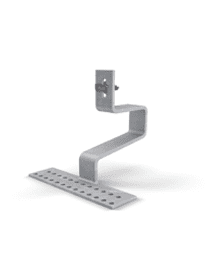 The TriSole+ system is a Triangular racking frame for pitched, flat roofs & ground mounting. It is available in various inclinations.Thanks to the large number of compatible roof connection elements and the option of ballasting TriSole, is suitable for a variety of different types of roofs and roof coverings.
SegenSolar carries the entire range of Renusol solar panel mounting solutions as has been mentioned above.
You can read more about Renusol on their website here or refer to the documents tab on the specific product page on the SegenSolar portal.
| Product code | Categories | Name |
| --- | --- | --- |
| REN-900246 | PV Mounting, Rail End Caps, Renusol | VarioSole + End Cap 41X35 rail Single – Grey |
| REN-900314 | Flat Roof, PV Mounting, Renusol | Socket bolt 6 x 110 mm FS10 |
| REN-920043-B | PV Mounting, Rail End Caps, Renusol | VarioSole + End Cap 50X37 rail – RIGHT/LEFT Black (1 pair) |
| REN-920044 | PV Mounting, Rail End Caps, Renusol | VarioSole + End Cap 50X37 rail – RIGHT/LEFT Grey (1 pair) |
| REN-920106 | Flat Roof Tray, PV Mounting, Renusol | ConSole Clip Set (BTO) |
| REN-900318-21 | PV Mounting, Renusol, Wood Screws | Wood screw pan head 6 x 80 SIT30 Single (900318) (Pack of 21) |
| REN-900305-21 | PV Mounting, Renusol, Wood Screws | Wood screw pan head 6 x 80 (Bag of 21) |
| REN-999900 | Mounting Tools, Renusol, Tools | Attachment SFS DS-K 265 for cordless screwdriver |
| REN-900318 | PV Mounting, Renusol, Wood Screws | Wood screw pan head 6 x 80 SIT30 Single (900318) |
| REN-900268 | Cable Clips, PV Mounting, Renusol | P-Clip Potential Equalization Clip |
| REN-900184 | PV Mounting, Renusol, Roof Anchor- Hanger Bolt | Solar Fastener for steel substructure 150mm/50mm |
| REN-900193 | PV Mounting, Renusol, Storm Washer | EPDM gasket 8.4mm/25mm. Screen seal for solar fastener |
| REN-900205 | PV Mounting, Renusol, Storm Washer | Storm washer for trapezoidal sheet W15mm/20mm |
| REN-900220 | PV Mounting, Renusol, Storm Washer | Storm washer for corrugated sheet R24mm/37mm |
| REN-900122 | Flat Roof Bifacial, PV Mounting, Renusol | Self drilling screw Faynot P1 6,3 x 38 |
| REN-900054 | Flat Roof, PV Mounting, Renusol | Renusol FS10 M8 Washer/100 |
| REN-900229 | Flat Roof, PV Mounting, Renusol | Self Drilling Screw 4.8 x 19 A2 |
| REN-900181 | PV Mounting, Renusol, Roof Anchor- Hanger Bolt | Solar Fastener for steel substructure 80mm/50mm |
| REN-900182 | PV Mounting, Renusol, Roof Anchor- Hanger Bolt | Solar Fastener for steel substructure 100mm/50mm |
| REN-900183 | PV Mounting, Renusol, Roof Anchor- Hanger Bolt | Solar Fastener for steel substructure 125mm/50mm |
| REN-900013-100 | PV Mounting, Renusol, Wood Screws | Wood screw slated tiles countersunk 6 x 80, pack of 100 |
| REN-900015-100 | Fixings, PV Mounting, Renusol | Hexag. Bolt M6x20 & Hex. Flange nut M6, pack of 100 |
| REN-900016 | Fixings, PV Mounting, Renusol | Hexag. Flange bolt with serration M8x14 |
| REN-860006 | PV Mounting, Renusol, Roof Anchor- Hanger Bolt | VarioSole Hanger bolt M10 x 200 Wood Substructure |
| REN-860007 | PV Mounting, Renusol, Roof Anchor- Hanger Bolt | VarioSole Hanger bolt M12 x 250 Wood Substructure |
| REN-900007 | Fixings, PV Mounting, Renusol | Hammerhead bolt M8x25 |
| REN-900013 | PV Mounting, Renusol, Wood Screws | Wood screw slated tiles countersunk 6 x 80 |
| REN-900015 | Fixings, PV Mounting, Renusol | Hexag. Bolt M6x20 & Hex. Flange nut M6 pack of 24 |
| REN-900025 | Fixings, PV Mounting, Renusol | Hexag. Flange bolt M8x35 with serration |
| REN-900036 | Fixings, PV Mounting, Renusol | Hexagon nut ISO 4032 – M8 A2-70 |
| REN-500500 | Flat Roof, PV Mounting, Renusol | Base rail FS10-EW 2260 XL mm |
| REN-500520 | Flat Roof, PV Mounting, Renusol | FS10-EW Ridge support 10° |
| REN-510422 | Flat Roof, PV Mounting, Renusol | Ridge support 18° (assembled) |
| REN-520075-K | Flat Roof Tray, PV Mounting, Renusol | ConSole+ (incl. Mounting material and U-Profile) |
| REN-520076 | Flat Roof Tray, PV Mounting, Renusol | ConSole Streamliner+ |
| REN-500505 | Flat Roof, PV Mounting, Renusol | Base Rail FS18-S XL 1739 mm |
| REN-500506 | Flat Roof, PV Mounting, Renusol | Base Rail FS18-S XL 1989 mm |
| REN-500453 | Flat Roof, PV Mounting, Renusol | Streamliner FS10-S for 72 Cell Modules 2150mm |
| REN-520075-GROUND | Ground Mount, PV Mounting, Renusol | ConSole+ Ground Mount |
| REN-520501 | Flat Roof, PV Mounting, Renusol | Renusol ECO Ballast set FS (Set) 1750 mm |
| REN-500419 | Flat Roof, PV Mounting, Renusol | Eave support XL |
| REN-500423 | Flat Roof, PV Mounting, Renusol | Ridge support 10° XL |
| REN-500404 | Flat Roof, PV Mounting, Renusol | Bottom rail connector 150 mm |
| REN-500410 | Flat Roof, PV Mounting, Renusol | RPM 110 x 95 x 20mm standard |
| REN-500411 | Flat Roof, PV Mounting, Renusol | RPM 110x95x20mm alu coated |
| REN-500412 | Flat Roof, PV Mounting, Renusol | Roof Protection Pad 1000 x 100 x 11 mm for Base Rail |
| REN-500450 | Flat Roof, PV Mounting, Renusol | Streamliner FS10-S for 60 Cell Modules |
| REN-500420 | Flat Roof, PV Mounting, Renusol | Eave support for FS10S, FS18S and FS10EW |
| REN-500421 | Flat Roof, PV Mounting, Renusol | Ridge support for FS10S – 10° |
| REN-500433 | Flat Roof, PV Mounting, Renusol | Streamliner FS10-S for 72 Cell Modules |