Pylontech: your partner in commercial storage
Energy storage is perhaps the biggest benefit of solar power. With the capability to keep surplus energy for later use, homes and businesses can have uninterrupted access to essentials like hot water and air conditioning.
But how can PV batteries help businesses?
We are here to explain all things commercial storage, including what it is, how it works, its key benefits and why Pylontech is the manufacturer to choose for your PV system.
What is commercial PV storage?
A typical storage system comprises PV panels, an inverter and a battery bank. The panels harvest the sun rays, and inverters convert it into usable energy. And due to the abundance of sunlight in the warm Southern African climate, the amount of power generated can outweigh what is needed each day.
This is where batteries come in.
Solar batteries store surplus energy to be used when needed most — at night, in winter or during load shedding. Instead of turning to the unreliable grid for electricity or coping without supplies until load shedding ends, you can have constant electricity from a renewable energy source.
What are the benefits of commercial PV storage?
There are multiple benefits to such systems — many of which are particularly useful for businesses. 
Reduced environmental impact
Battery storage allows businesses to get the most usable energy out of the sun; it is the greenest type of PV system. Not only are these systems better for the environment, but they also allow business owners to alleviate the strain on the grid, thus helping your country work towards a more sustainable future. Less demand for power stations helps create less air pollution!
Save money
Electricity bills are on the rise and show little sign of stabilising. The volatile energy market always has, and will always, experience unpredictable fluctuation, which can be especially troublesome for new and small businesses.
By transitioning to solar power, you avoid this entirely. You will only pay for the cost of the system components — no monthly bills or price hikes. Your products will effectively pay for themselves.
Uninterrupted supply
Loss of electricity is inconvenient for anyone. But for business owners, it can cause permanent damage.
When load shedding causes power outages, businesses are often forced to close their doors without prior notice — sacrificing a day (or more) of income. This can also be incredibly disappointing to customers, potentially impacting how much new business you bring in.
Because batteries can provide constant, reliable power, this issue can be solved with the right PV system.
The PowerCube H2
For PV batteries, why go anywhere than a global leader? Pylontech's innovative lithium batteries are at the forefront of the commercial storage sector, equipped with a range of intelligent solutions to support high-quality, long-lasting systems.
The PowerCube H2 is a high-voltage battery perfect for commercial use, namely due to its impressive scalability. Up to 18 of these applications can be configured into one stack and up to six stacks can be linked in one parallel — offering great potential for larger installations.
What's more, the PowerCube H2 is truly built to last. Whilst LiFePO4 technology and charge, current and temperature protection keep the battery safe, Pylontech has a designated product to keep it secure.
The Pylontech PowerTower is a heavy-duty storage solution for the PowerCube H2, capable of holding between seven and 12 batteries. The ventilated racks ensure proper temperature regulation, and ClipLock™ rails support the applications.
Lockable door kits are also available for the PowerTower, which are recommended to provide extra protection.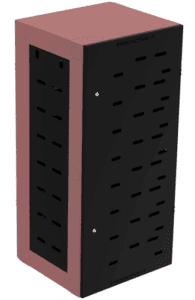 If you are a solar installer looking to embark on your renewable energy journey, create an account on the free SegenSolar portal today. If you are a business owner and want a Pylontech storage solution installed, you can get in touch with a member of our friendly team who would be delighted to assist you.