Perks of PV monitoring with Solis
As a homeowner or solar installer, keeping an eye on your PV installations is imperative.
From ensuring there is no hidden damage that could result in a fire hazard to simply guaranteeing your system is performing as it should be, there are dozens of reasons why it is essential to monitor your projects.
And when you install Solis products, solar monitoring has never been easier.
Merits of monitoring
Monitoring platforms and devices are available for all solar inverters. Although solar installations are renowned for their lack of required maintenance, the benefits of monitoring are abundant for both homeowners and installers.
Track return on investment
Knowing that your solar installation is performing as it should be means you can ensure a good return on investment. After all — although a PV system is an upfront investment, it guarantees substantial cost savings in the long run.
Gain ultimate satisfaction
Monitoring your solar installation gives you complete visibility of how much the system is saving on monthly electricity bills. It also allows you to track how much CO2 you are saving and the equivalent number of trees planted each day.
Identify faults quickly
Having an accurate monitoring system in place means you can pick up on system faults before they cause any irreversible damage to any of the installation's components.
Generally, a monitoring system will highlight where the fault is occurring so that it can be fixed promptly and efficiently. Not only will this minimise any fire risk, but it will also ensure the installation continues to operate as it should.
Keep compliant
Staying in line with local regulations is imperative for any household or business with a PV system installed. Monitoring your installations ensures each project aligns with regulatory standards.
World-class solutions from Solis
Export Power Manager
The best way to monitor your project is with Solis' Export Power Manager (EPM). This product forms part of Solis' iconic fifth-generation range and is the ideal solution for smart energy management of both residential and commercial systems alike.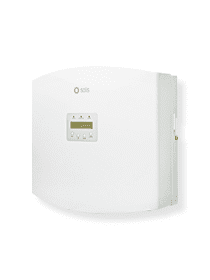 This intelligent device allows you to control up to 80 Solis inverters at once and is incredibly easy to use. With several standardised meter interfaces and individual specifications for controllable appliances, this hub gives you ultimate control and flexibility over your solar installation, contributing to higher and more efficient self-consumption.
All you have to do is link your EPM to the all-new SolisCloud monitoring platform to transform the way you keep an eye on your installations.
SolisCloud
The new SolisCloud monitoring platform helps installers access & understand their Solis installations better than ever. Accessible via web or mobile app, this is an intuitive platform that gives users access to full monitoring functionality, including IV curve scanning and a complete energy balance display. Uniquely, SolisCloud is also free for life. No download costs or subscription fees: 100% free.
If you are familiar with the old Ginlong monitoring software, the SolisCloud is a new-and-improved tool that is much easier to navigate and offers precise data with comprehensive reports which can be downloaded easily. It is also straightforward to migrate over to the new platform if you have not done so already. But don't worry, none of your historical data will be lost!
Using this free monitoring portal allows installers and end-users to ensure the ultimate efficient running of every Solis system, giving you control and flexibility over its performance in real-time.
The SegenSolar portal is the best place to buy your Solis equipment. Sign up for free today!