GoodWe (Jiangsu) Power Supply Technology Co. Ltd is a renewable energy enterprise focused on the technical development and manufacture of solar PV inverters and monitoring solutions.
The industrial designs of the GoodWe's ES and EM series bi-directional hybrid inverters derive from technology demanded by German standards and are best suited to on-grid applications.
The GoodWe hybrid inverter includes both single and twin MPPT trackers to maximise the energy yield from either one or two independent strings of PV panels. The product also features a battery charger for lead-acid or lithium ion batteries and a pure sine wave inverter for generating mains voltage. During the daytime, the PV plant generates electricity which can be supplied to the connected loads and any surplus energy is used to recharge the connected battery pack for later use.
Additionally, this inverter has two AC outputs: one connected to the main loads or non-essential loads and a second connected to essential loads. The latter remains live in the event of grid-failure as it is powered from the connected battery pack.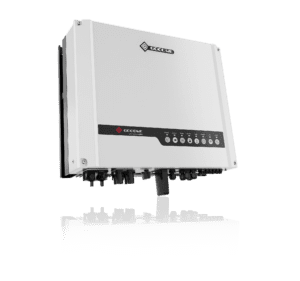 There are many aspects to selecting a system and we recommend you read our guides to System Types and Storage Batteries to better understand this technology.
SegenSolar holds stock of the GoodWe 3.0KW, 3.6kW and 5KW Inverter in the EM range and the 4.6KW in the ES range.
If you want to know more about GoodWe, you can find out more here on the manufacturer's website. Alternatively, please refer to the documents tab on the specific product page on the SegenSolar portal.
| Product code | Categories | Name |
| --- | --- | --- |
| GW-EZ-METER | Display, Energy Meter, Goodwe | Goodwe EZ Meter |
| GW3648D-ES | Goodwe, Hybrid Inverter, Storage Systems | Goodwe ES 3.6KW Hybrid Inverter (3.6KW Backup) |
| GW3048-EM | Goodwe, Hybrid Inverter, Storage Systems | GoodWe EM 3kW Hybrid Inverter (2.3KW Backup) |
| GW3648-EM | Goodwe, Hybrid Inverter, Storage Systems | GoodWe EM 3.6kW Hybrid Inverter (2.3KW Backup) |