Celebrating success at The Solar Show
After many months of anticipation, we were finally able to meet and greet many of you in-person at The Solar Show Africa 2022.
Whilst this event was a personal triumph for SegenSolar — having, as we had hoped, a number of fruitful conversations with some of our favourite manufacturers and event sponsors throughout the exhibition — these very manufacturers found the experience to be hugely positive for a number of reasons.
The Solar Show 2022 provided the opportunity to showcase and inform on new products, as well as the time and space to speak to answer important questions about services and applications, which helped manufacturers provide the exceptional service so many pride themselves on.
Above all, though, the event provided an excellent chance for customers get to grips with new product releases and have the chance to network after so long without these large-scale, face-to-face events.
So, it was only right that we ran some special events for installers this year…
The Pre-Solar-Show Training Workshop
We kicked off this year's exhibition with our Pre-Solar-Show Training Workshop at the Radisson Blu Hotel — a five-star hotel with first-class facilities.
Held on the morning of 22 August, before the main event had begun, this workshop was an ideal way to catch up with our installer audience away from the hustle and bustle of such a big event. Plus, with many manufacturers in attendance, we were pleased to provide a dedicated space to talk with the product experts and have important questions answered.
Those who presented at the event, Solis, Renusol, Pylontech and Canadian Solar, were, like the SegenSolar team, delighted with the turnout on the day. To see so many of you join together under one roof with aims to expand your solar expertise highlighted the importance of these events.
Whilst the focus of this workshop was product training, with aims to ensure installers stay up-to-date with the latest products and how to install them, we also hosted a slightly more relaxed event with great success.
The VIP networking event
We were honoured to host a laid-back networking event at the San Deck — a highly esteemed bar in Sandton that offers spectacular rooftop views, firepits and cocktails.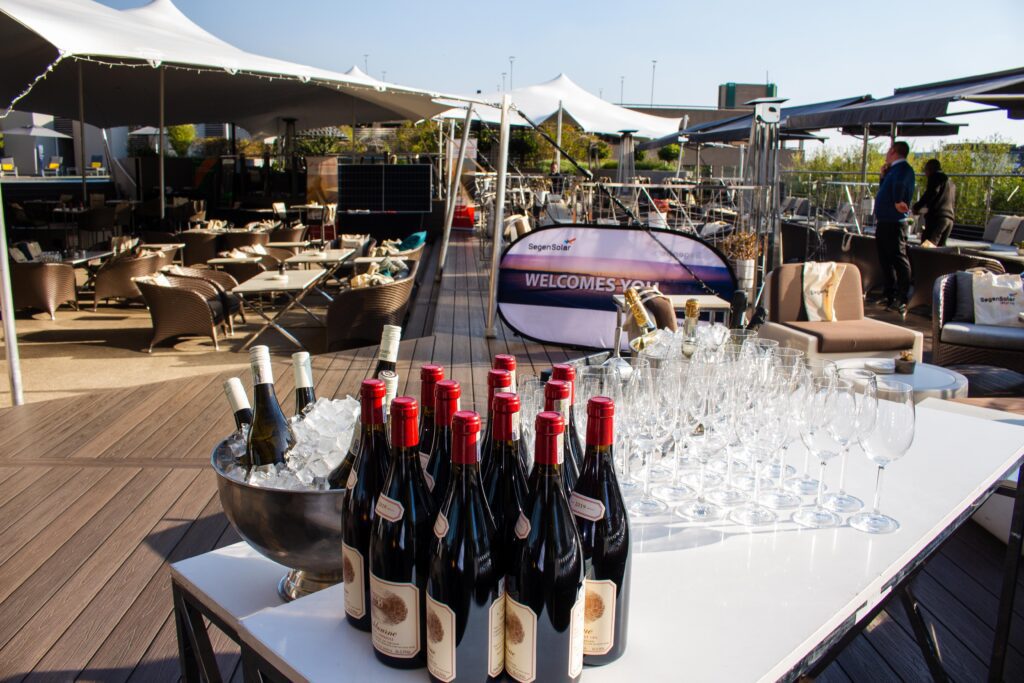 This exclusive, invite-only afterparty saw some of the most respected names in the solar industry come together to continue conversations from the exhibition and build valuable professional connection.
The event was kindly sponsored by Solis, Canadian Solar, Renusol, Pylontech, Freedom Won, Victron, Cinco Solar and Fox ESS — eight industry-leading manufacturers of PV products that we are proud to stock on the SegenSolar portal, and look forward to working with them again in the future.
Look out for future events
Following huge success with our online events during the pandemic, SegenSolar continues to offer a selection of webinars and in-person events to our installer audiences.
Keep an eye out on the portal for our next event — we would love to see you there.
You can register for our online and in-person events on the SegenSolar portal. Log in or set up your free account today to secure your place at our next one!