WHY AXPERT
AXPERT INVERTER
This is a multi-functional inverter/charger, combining functions of inverter, MPPT solar charger and battery charger to offer uninterruptible power support with portable size. The Axpert inverter range offers an "All in one" solution to your off-grid solar power solutions. Its comprehensive LCD display offers user-configurable and easy-accessible button operation such as battery charging current, AC/solar charger priority, and acceptable input voltage based on different applications.
PROTECTION FROM GRID UNRELIABILITY
This means that should you want to go completely off grid, lower your monthly energy bills or have power in the event of a power failure, you merely need to batteries and/or Solar PV. The inverter has its own built in MPPT charger, thus the system is completely self-sustaining and does not require management or user intervention.
WHAT IT DOES
The Voltronic Axpert MKS sine wave solar inverter is equipped with MPPT solar charge controller to maximize and regulate DC power from the solar array for charging the battery bank. Transformerless design provides reliable power conversion in compact size. Can be used in on or off grid installations or as back-up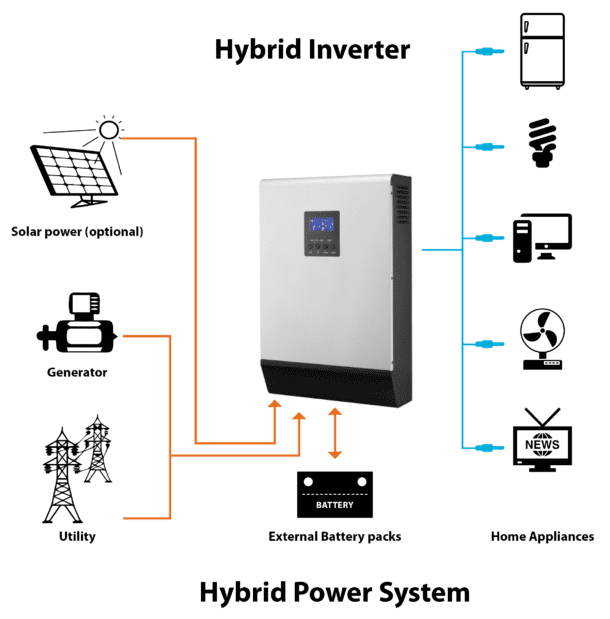 ESSENTIAL LOADS
This inverter can power all types of appliances in home or office environment, including motor type appliances such as:
Lights
Fan
Refrigerator
Air Conditioner
TV
Laptop / Phone Charging / Battery Charger
Lazer Printers
Motors
Pumps
Compressors
Power Tool
MAIN FEATURES
Pure sinewave inverter
Output power factor 1
Built-in battery equilization function to extend battery life cycle
Built-in MPPT solar charge controller
Selectable input voltage range for home appliances and personal computers
Selectable charging current based on applications
Configurable AC/Solar input priority via LCD setting
Compatible with mains voltage or generator power
Battery equilization for otimized battery performance and lifecycle
Parallel operation with up to 9 units
LITHIUM ION BATTERY STORAGE
The Pylontech US2000B Plus and the US3000 are highly suitable options for both new systems and for ones that need their lead acid batteries to be replaced. The US2000B and the US3000 is a battery system, developed with their own Lithium Iron phosphate cell to ensure the highest safety value and most promising life cycle. A self-designed BMS (BatteryManagement System) protects the cell from abnormal temperature, current, voltage, SOC (State of Charge)and SOH (State of Health).
The Pylontech Lithium-Ion battery has a DOD of 80% when used with the Axpert or Infinisolar inverters which compares to 50% for typical lead-acid batteries. In order to provide the same storage capacity the minimum suggested replacement options, whereby Pylontech is used to replace the most commonly used 48V lead acid battery banks.
When used with Axpert, a Pylontech US2000 2.4kWH battery will deliver 1.5kWh usable energy when discharged at 1.2kW, and at 600W power draw 1.9kWh usable energy can be utilised. Therefore, to take into account the expected current draw of the inverter, SegenSolar recommends that the minimum number of Pylontech Lithium-Ion batteries be linked to the site-specific base load as follows:
If you wish to discuss your requirements with a SegenSolar approved installer local to you then please complete the Contact Form with your details and someone will make contact with you.
---
Grid-Tied Systems Small, Medium, Large / Grid-Tied Hybrid – Small, Medium, Large