Shenzhen ATESS Power Technology Co. Ltd was founded in 2017 and has grown to become a global supplier of solar energy storage solutions. ATESS' core focus is on offering energy independence for as many people around the world as possible and, since the company's inception, ATESS' products have been installed in over 60 countries worldwide.
SegenSolar stocks several of ATESS' all-in-one hybrid inverters ranging from 30kW to 150kW, meeting all your commercial and industrial solar storage requirements. These products offer several different working modes (including back-up, off-grid and peak shaving), plus they can be paralleled and provide a seamless transfer between on and off-grid.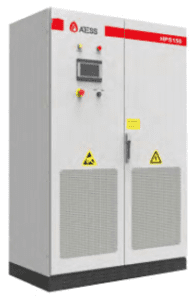 ATESS has an experienced R&D team comprised of over 60 engineers and technicians. Its labs are fully equipped with state-of-the-art testing instruments to guarantee product performance and quality across the board.
Like many other solar product manufacturers, ATESS' vision is to reduce our dependence on fossil fuels and bring down CO2 emissions for a carbon-neutral world.